How to Form New Habits – Six Steps
In this article, you will learn practical steps on how to adopt new habits.
Last week we talked about what are habits and why are they useful?
Changing unuseful behavior is not easy, although it's very simple. The difficult part is staying consistent. All of us would like to get results fast. Everyday commitment is hard when you can't see any results for at least 30 days once you start.
I've been through the process of adopting new useful habits and quitting procrastinating and destructive behavior that kept me away from the results I wanted. I successfully changed my habits.
It is possible to create positive changes in your life and start living the life you always wanted.
And so can you! Keep reading If you want to learn how to build discipline and stay consistent.
1. Identifying goals.
What is your current situation? What results would you like to change? How will you feel if you get your results? The answers to these questions will give you clarity on what it is that you want to achieve.
These could be: stop smoking, start exercising, increase financial income, quit procrastination, increase discipline, get more confidence, start a diet to lose weight, improve relationships with your partner, resolve workplace issues, resolve business issues, start a hobby, turn a hobby into a business, make an important decision about something, find more time for reading and self-care, increase productivity…..this list goes on and on.
Every one of us wants at least one thing from this list. Define what that is, and let's move on.
2. Identifying your behavior.
What behavior is preventing you from getting this result? Let's get clear: accidents and problems can happen to all of us. There are no guarantees in life. But we can increase our possibilities by making smart choices. As I said, all of us can experience negative situations. But if our negative situations in life last too long – years in some cases, this has to do something with our behavior.
If your relationship is not working for months or years – you have to change how you do things.
If you are struggling financially for months or years – the same thing.
If you want to lose weight for years but still have no results– you need new habits.
Be honest with yourself: What behavior prevents you from getting what you want?
Is it oversleeping, indulging in too much food and beverages, canceling appointments last minute, lying to other people, scrolling on social media, laziness, watching too much tv, playing video games for many hours, avoiding conflicts at any cost, comparing yourself with others, copying other people's work… You are doing some of these behaviors for sure, preventing you from getting your results.
3. Decision and commitment
Decide that you will replace unuseful habits and behavior by adopting better habits. And then make a commitment to yourself. Deciding without committing yourself is worth nothing.
Commitment means that you are willing to put at least 30-60 days into repeating some behavior until it becomes a habit.
There are no quick fixes, and everyone who tells you they changed overnight or achieved big results overnight is lying to you.
You need to meditate for 30 to 60 days to adopt it as a habit.
You need to exercise for 30 to 60 days to adopt it as a habit.
You need to stay consistent in not touching your phone while working for 30 to 60 days to adopt it as a habit.
Once you adopt something to become a habit – it will be easy to do it. Imagine if exercising becomes a strong habit as brushing teeth.
4. Control your choices
It's important to build strong self-control in your everyday living. You can't blame no one for this part. It's completely your responsibility. Your choices are the only thing you have control over in your life.
Remember: You always have a choice about how you will respond to triggers, challenges, problems, and unpredictable changes.
5. Beliefs 
Can you see yourself like you are already "there?"
Do you believe you can actually get better results? If you don't believe you can get a job, lose weight, get clients, and become healthier, you won't stay committed to the new behaviors you want to adopt.
People quit exercising, learning, and applying for a different jobs because they don't really believe they can achieve results.
If this is your case, try several methods to build stronger beliefs. This is going to be another article. Until then, you are welcome to come to Coffee with Maya. It's a free meeting happening once a month where we discuss and share resources for personal development.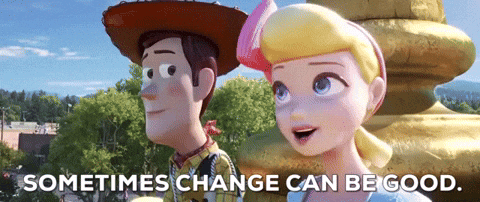 6. Take small steps
Don't bring too many changes at once. If you normally wake up at 7 am, and suddenly you decide to become a 5 am club, with exercising first thing in the morning, and working all day, then reading all night while trying to have a date with your partner because this is what successful people do – you will fail. It will overwhelm you, and you will decide to go back to where you were.
If my husband reads this, he will laugh. Because I just described myself. 🙂
I have this side of my character that wants it all and does it all at once.
A few years ago, I was someone who appreciated my sleep in the morning very much. I used to hit the snooze button. I get distracted from work easily, answering all the messages and emails while working. Also, reading articles and watching YouTube while working. Not booking the time for honest conversations to resolve issues with people, but rather procrastinating and waiting for the problem to go away. Planed to exercise but never actually starting it.
And when I decided to change, I jumped in, taking drastic measures all at once. Suddenly I am part of the 5 am club, plus a morning routine with exercising included. Worked crazy hours, booked some extra 2-3 h at night to catch up on education and add more skills – and on the third day, I would literally fall down at noon, exhausted, frustrated, and completely disappointed of not getting the results yet.
That's why you should listen to me and consider all the steps in this article a little bit at a time.
This is the process of 6 steps on how to adopt new habits. I would like to hear back from you how is your progress going.